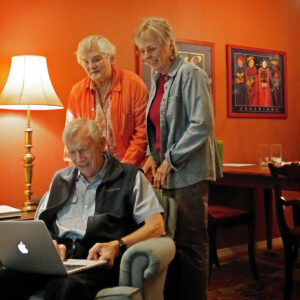 Honor one of the Fathers in Your Life this Father's Day
Developing new skills and talents while contributing in a meaningful way to help older adults age at home are my favorite experiences as a Villager. Volunteering lets me try new things I could never do during my career when I had to conform to the job. 
It's exciting to see the difference our metro area Villages have made in just 2½ years since Eastside Village opened with 30 members. I am now one of 470 members in six Villages, and each of us has our own story. 
Volunteers organize more than 50 activities a month and in the first quarter of 2018, Villagers in our six open Villages delivered 1,154 services, up from 327 in early 2017. Villages in Vancouver and West Linn/Lake Oswego are currently building community by hosting social activities and will begin delivering services within the next 18 months. 
Since our initial meeting, I've worked with a dedicated and ever expanding group of Villagers to turn the concept of aging at home into a reality. We had no preconceived ideas; we each just stepped forward to do what was needed to move ahead. If a particular task turned out not to be my best skill, I could pass it on to someone else and take on a new challenge. 
None of us knew where we were going in the beginning, but by working together, we met with neighbors and local residents to acquaint them with the Village Movement. We organized coffees, happy hours, informational meetings and fundraisers. We put together action teams. I worked on the task force to develop the driving program and recruited and prepared drivers for my own Village. I've given at least 25 rides in the 7 months since my Village opened. One member I've driven is an old friend I've known for more than 40 years. It's been great to reconnect with him. 
The number of new friends I have gained has been something of a surprise. I've met so many interesting people with diverse experiences. They have lived in other places, done other jobs, traveled and have fascinating hobbies. My life has been enriched as I enjoy their company and life stories. 
Help keep up the momentum! This Father's Day contribute to a local Village in honor of an extraordinary man in your life: grandfather, father, son, uncle, nephew, or one of the wonderful men who is "family" for you. 
Your donation transforms the lives of elders in our community. Join me by making an investment in our future. Your donation of $50 or more to the Village of your choice will help more Villagers stay in their homes, create space for friendships to grow and provide a way to be part of a giving community that makes all our lives more rewarding. 
Thank you in advance for your generosity,  
Carl Petterson
Villages Volunteer and Member
P.S. I can't think of a better Father's Day gift for our families, can you?