There are now 10 Villages in the Greater Portland metropolitan area.
Villages NW, Portland Area Map, 2023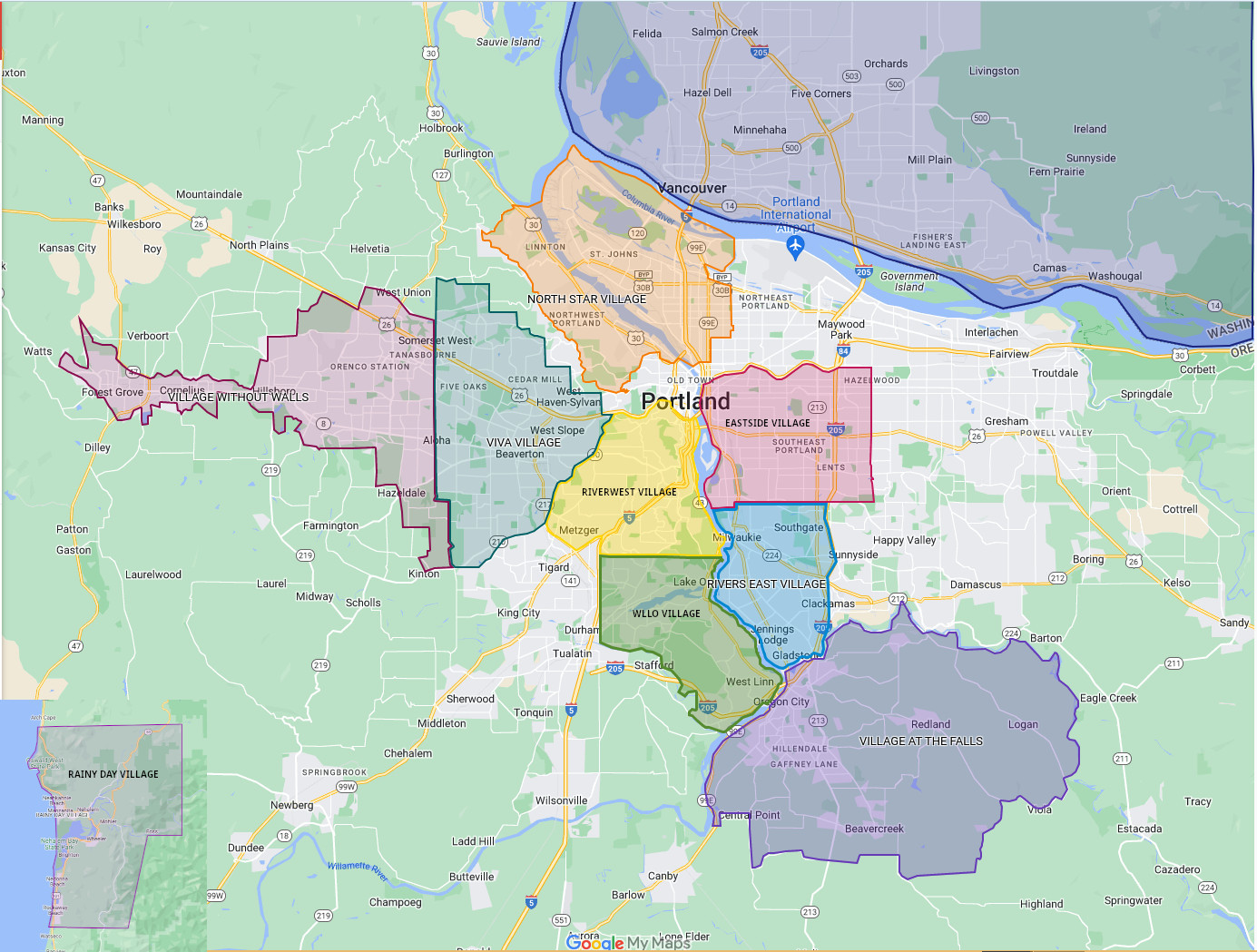 Click on the map above to here to view an interactive version, which includes links to zoom in to local Villages.
Visit the website for the village in your area to learn more.
▪ Eastside Village
in SE & NE Portland, Oregon
╏
Web site
╏
On Facebook
╏
On Instagram
╏
Boundaries
╏
▪ North Star Village
in N & NW Portland, Oregon
╏
Web site
╏
On Facebook
╏
Boundaries
╏
▪ Rainy Day Village
in Manzanita, Oregon
╏
Web site
╏
Boundaries
╏
▪ Rivers East Village
in Milwaukie, Oak Grove, Gladstone, Oregon
╏
Web site
╏
on Facebook
╏
Boundaries
╏
▪ River West Village
in SW & NW Portland, Oregon
╏
Web site
╏
On Facebook
╏
Boundaries
╏
▪ Village At The Falls
in Oregon City, Beavercreek and Redland, Oregon
╏
Web site
╏
On Facebook
╏
Boundaries
╏
▪ Village Without Walls
in Hillsboro, Aloha, Forest Grove and Cornelius, Oregon
╏
Web site
╏
On Facebook
╏
Boundaries
╏
▪ Villages Clark County
in Vancouver, Washington
╏
Web site
╏
On Facebook
╏
Boundaries
╏
▪ Viva Village
in Beaverton, Oregon
╏
Web site
╏
On Facebook
╏
Boundaries
╏
▪ WLLO Village
in West Linn, Lake Oswego, and Stafford Hamlet, Oregon
╏
Web site
╏
On Facebook
╏
On YouTube
╏
Boundaries
╏