"Now I Must Begin Again"
Thursday, April 25
Special Event with Cerimon House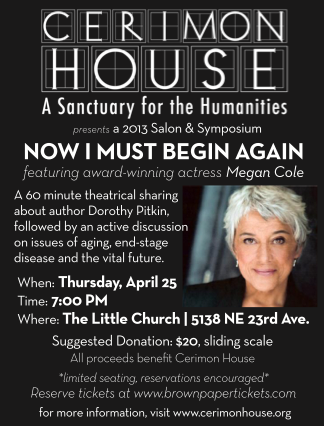 Save your place
A few seats remain for this special event. Reserving is easy, just click on this link.
Performing at The Little Church in the Alberta Arts District.
5138 NE 23rd Avenue, Portland, OR 97211. Please park north of NE Sumner St., and to travel via NE Killingsworth St., thus avoiding the busy NE Alberta St. retail corridor.
Symposium to follow 
The performance will be followed by a conversation with special guests Chana Andler, Sharon Nielson, and Ms. Cole. Chana Andler is the Co-founder and Director of Villages NW, whose purpose is to jumpstart the creation of multiple aging-in-place villages throughout the Portland Metro area. Villages NW helps to make it possible for older adults to grow old in the homes and neighborhoods they love. Sharon Nielson serves on the Board of Cerimon House, and consults on matters of community housing.